Reba-Adopted!'s Web Page
Basset Hound / German Shepherd Dog / Mixed (short coat) : : Female (spayed) : : Young : : Medium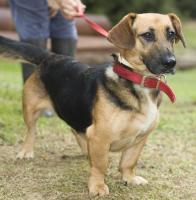 Learn more about the Basset Hound. Learn more about the German Shepherd Dog.
Reba-Adopted! needs a caretaker or foster! Won't you consider helping her get a new start?
About Reba-Adopted!

Status: Adopted!
Species: Dog
General Color: Black with Tan, Yellow or Fawn
Color: Black and tan
Current Size: 33 Pounds
Potential Size: 33 Pounds
Current Age: 16 Years 1 Month (best estimate)

Housetrained: Yes
Owner Experience Needed: Breed
Reaction to New People: Friendly
Reba went home to a lovely and loving home in West Chester. Right near her foster mom! She has a big yard, a pool(found out she LOVES water,) and a big bother lab to play with. Her new Mom and Dad are so excited to have her and are ready to spoil her rotten. Welcome home baby girl!


Reba has arrived by transport from West Virginia on 9/22/07. Please consider fostering this unique looking but loveable girl. She is very petite, only 33 pounds of cuteness! She just makes you smile when you look at how odd looking she is. People will definately want to come over and say
"What is she? I mean we can see she is a Basset hound with the short body and legs --- but what is that head?" Well, we would like the answer to that ourselves!

This is what the shelter says about her:
Reba is not the prettiest girl in town, but she is a great dog. She is maybe a couple yrs old and very short and sweet.

We have had her spayed and as always she has gotten all her shots, de-wormed and microchip.

Please read ALL our adoption policies BEFORE applying for a puppy or dog.

If you would like to fill out an application, you must first register on the website and await an e-mailed passcode. Once you have this info, you will be able to access our application.

All L&F dogs/pups have been:

Temperament tested and have been chosen for having sweet, gentle dispositions.

House Trained & Crate Trained - paper trained if pups

Lives in foster homes with families.

Up to date with their complete series of Distemper, Parvo vaccines and Rabies.

Already SPAYED/NEUTERED
(pups under 5 months must be prepaid)

Microchipped

Tested for Heartworm, Lyme, Ehrlichia

On Interceptor (Heartworm medication) & Frontline Plus (for the duration of their stay with us) - Plus they go with a one month supply of each

Intra Trac ll Kennel Cough

Two De-Wormings

PLEASE NOTE:
Any dog/pup adopted from us must have a fenced in property either Physical or Electric Fence. The fence must be installed/or firm commitment prior to us processing an adoption application. If you need a fence for your dog, but are not permitted to have a physical fence, or chose not to, please visit our friends at Pet Stop. Mention that you saw them at our website. http://www.petstop.com/

We abide by the Humane Association's recommendation. For ANY DOG adoption to have a relatively good chance of success, we believe a child should be 8 years old & up. We only adopt what we call our "BONA-FIDE Kid Lovers to families with children." Many dogs do not want to live with children. You should only adopt a dog who LOVES kids to be sure you are able to make a lifetime commitment to a dog.

We also expect that if no one is home all day, arrangements will be made to provide the dog with at least (1) "potty break" daily. This can be through a family member, neighbor, or Petsitting service. We know that it is impossible for us humans to "hold it" for 8-10 hours, so we do not want our "shelter kids" to be expected to do so.

We have several Petsitting service companies that we can recommend:

Fetch Pet Care - Serving New Castle County 302-322-8980
For more info and other locations: www.fetchcare.com

Pet Valet services include transporting to and from Vet or grooming, dog walking and pet sitting, Pooper service - e-mail: leeterri2001@yahoo.com or call 302-369-3074

Good Dog Animal Care -
http://www.petsittinggooddog.com/
Servicing the Kennett Square PA area
Call: (484)645-3130 - Meghan and Jackie Herb

TLC Petsitting
http://www.tlcpetsitting.net/ in MD




More about Reba-Adopted!
Good with Dogs